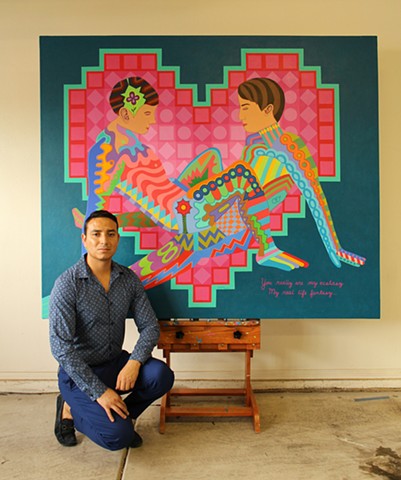 Phoenix artist, Julio Cesar Rodarte:
Julio Cesar Rodarte brings aesthetic elements of modern experience into geometric and colorful formalist paintings. It is work that reflects our age of pictorial language, branding and logo design, and navigational signage. His intuitive command of the spectrum makes his canvases hum with a vibrant electricity; each composition is a visual sentence that describes a thread of 21st century zeitgeist. ."
The basic element of my art is geometry. I believe the form and space that surround us are unique. My work emphasizes color as the magnificent element that nature and the universe have given us. By combining these elements of form, space, color, and shapes my paintings relate to imagined forms and real silhouettes of life forms.
ALL ARTWORK IS AVAILABLE FOR SALE UNLESS INDICATED "SOLD"
PLEASE CONTACT ARTIST FOR PRICES.